February 18, 2021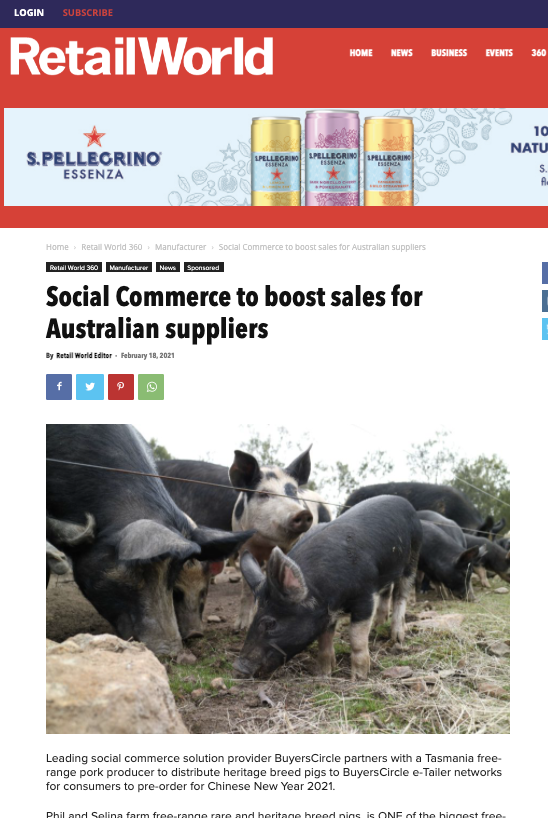 Leading social commerce solution provider BuyersCircle partners with a Tasmania free-range pork producer to distribute heritage breed pigs to BuyersCircle e-Tailer networks for consumers to pre-order for Chinese New Year 2021.
Phil and Selina farm free-range rare and heritage breed pigs, is ONE of the biggest free-range pork producers in Tasmania. Phil and Selina had always sold their high quality pig produce within the state, but all changed in Jan 2021 when Phil discovered a new social buying platform called BuyersCircle and its large e-Tailer network. Phil sold 80% of the stock in 48 hours to Sydney for the first time through BuyersCircle.
By accessing the platform from his mobile phone in Tasmania, Phil and Selina were now connected with over 650,000 Australian Chinese consumers keen to buy great quality locally made produce to celebrate Chinese New Year. Within 48 hours, the BuyersCircle platform allocated 10 heritage breed pigs (500kg in total) to 5 BuyersCircle e-Tailers in Sydney .
BuyersCircle is a social commerce platform, with over 650,000 customers, and over 14,000 e-Tailers. BuyersCircle e-Tailers promoted the heritage breed pigs as a pre-sale goods to their community buy group, 80% stock sold out within 48 hours.
Phil and Selina see the potentis new social commerce platform for a large number of Australian producers and approached BuyersCircle in late 2020.
The founder of BuyersCircle, Jackey Xu said:
'We see a huge opportunity for great Australian producers to use our platform. We have over 14,000 e-Tailers serving over 650,000 Australian Chinese consumers on the platform already. Social commerce is a new way for people to buy everyday items and we think it could be a great platform for quality, local suppliers like Phil.
'Whilst the business started with the Australian Chinese community as a store within wechat, , BuyersCircle are in the final stages of developing the Australian social commerce site and we anticipate even stronger demand once this is operational in 2021.'
About BuyersCircle "Paddock to Plate" Campaign
BuyersCircle believes all Australian deserve access to the best quality of the Australian food, we are actively seeking the opportunity to partner with Australian food suppliers or farmers to provide the best to the Australian consumer communities, as well as providing suppliers and farmers the best e-Tailer networks.