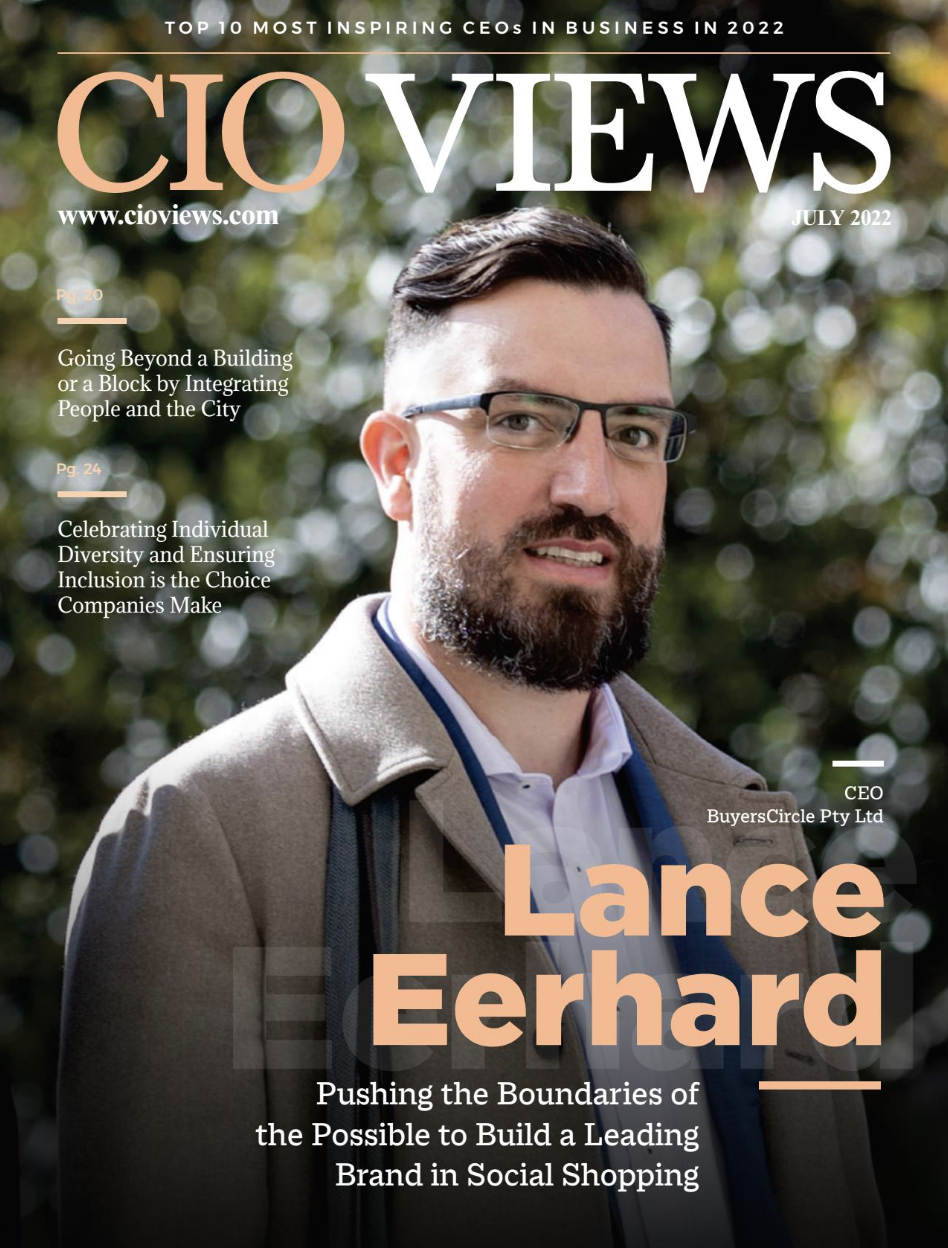 As the newly-appointed CEO of BuyersCircle Pty Ltd, Lance Eerhard has worked in top executive positions for significant Australian and international companies, where he developed e-commerce and digital offerings to help these companies keep up with consumer trends.
BuyersCircle is a Social eCommerce platform that lets users create online shops using an app and share recommended products on Facebook, Instagram, Pinterest, and TikTok. Ultimately selling those goods to their networks, followers, friends, family, and acquaintances.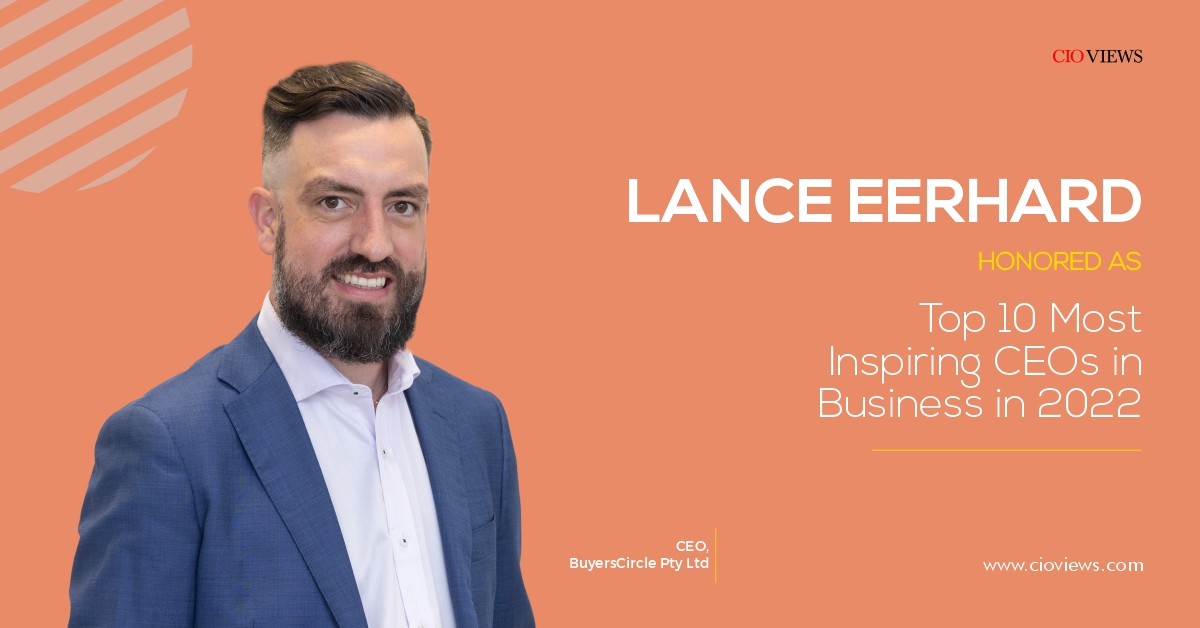 Prior to joining BuyersCircle, Lance's most recent position was as General Manager at Woolworths' WooliesX, where he oversaw the build of their Marketplace on Woolworths.com.au amongst other innovations.
His career has primarily been focused on the expansion of the Australian eCommerce market, along with substantial foreign experience in a variety of APAC South markets and categories.
Lance's prior positions include Chief Digital Officer of Dan Murphy's, eCommerce Director APAC South for ZX Ventures, the growth arm of Anheuser-Busch Inbev, and Head of eCommerce for the Carlton & United Breweries.
He is also a member of the National Online Retailers Association's (NORA) Advisory Board, as well as Australia Post's Customer Advisory Group.
Early lessons in entrepreneurship
Lance's career began (unofficially) as a 12-year-old, when his father handed him a fold of sandpaper and showed him how to use it to prepare a doorway for him to paint.
"The lesson learned was, you work hard for the things you want, and preparation always leads to a better end result," observes Lance.
His official career started when he launched a computer build and repair business out of his bedroom when he was still at school. He has been part of building and running businesses ever since.
Pushing the boundaries of the possible
As a new CEO who is just getting started at BuyersCircle, Lance states that his goal for growth, at the moment, is only in the maturity of the business and processes to enable it to scale.
"I've seen growth in the team, which is starting to come across in the numbers, but we are still early days," he points out.
In terms of the industry as a whole, Lance notes that he has spent the better part of the last 10 years pushing digital, data, and eCommerce forward from within large businesses.
"This has absolutely not been a factor of following a script. I've always been pushing the boundaries of the possible with my teams, exploring unnatural approaches, partnerships, and strategies to provide the best possible experiences for the customer, whoever that might be," he observes.
As an example, Lance explains that brands going D2C is not a new thing. But whilst at CUB and AB Inbev, the 'how' they did that was completely new.
Leveraging his knowledge of the industry as a whole, they built a near completely automated and highly cost-effective way of managing their D2C operations, that enabled growth and scale without massive increases in headcount.
Preparing for the coming disruption of the social platform space
The landscape of the social platform space has changed tremendously over the last few years, as privacy concerns took the stage and cookies are being phased out.
Lance predicts that the social platform space is going to be completely rocked by consumer preferences and trends, local and global legislation, and ongoing disruption in the coming year, let alone into the future.
As the space continues to become more and more fragmented, he believes that it is going to be harder and harder for brands and marketers to reach their desired audiences and coax them back towards a retail experience.
Lance points out that, coupled with what's happening with cookies and targeting, this could lead to a massive pullback by brands and retailers, as their costs skyrocket and marketing becomes less effective. He predicts that ultimately, businesses will need to wean themselves off the performance marketing drug.
Where BuyersCircle plays a part is in the platform, as the stores that they help their Influencers and e-Tailers generate are platform agnostic. It generates a shareable link that can be put anywhere a link can be posted. This enables their e-Tailers to engage their audience wherever they are and provide a retail experience there and then.
The e-Tailers control what they virtually stock from the BuyersCircle inventory, link to their establishment, and promote and share items as they see fit. BuyersCircle handles the logistics, payment, and shipping, and pays the e- Tailer (store owner) a commission on each sale.
When brands partner with BuyersCircle, they get access to the BuyersCircle Influencer base, ensuring that their products will be put in front of a genuinely relevant audience every single time.
Building on a strong foundation with robust technology architecture
Lance agrees that taking any company to success is a very hard road and explains that while the founders of BuyersCircle laid strong foundations, they thankfully didn't pour concrete on them.
Instead, they hired a great team of very loyal people and set up some good partnerships and processes for the early stage of the business. They tried a lot of things, some of which were successful and some that failed, but they set up the foundation to leverage and take the company to the next level.
The other thing that Lance points to, as a really important foundation, is the smart and modern technology architecture that the team developed.
He notes that while not everything is 'finished', or even built at this stage, their success going forward will be driven by the fact that they have a well-designed, open, and composable technology stack, where they can continue to plug in partners and develop to meet the new needs of the market, without throwing the whole thing away and starting again.
Success is working towards the happiness of all
Lance explains that success to him is such a multi-faceted thing that it's quite hard to define, normally. "I know it sounds a bit corny, but at the highest level I like to think of it as Happiness; personal, family, team, partners, customers, and investors/shareholders," he elaborates.
Lance notes that if they get their experiences right, hit their numbers, do the right thing, and look after their people, then the end outcome will be happiness. But if they slip on some of those things, then they might hit their numbers, but in his book, they will still have failed.
In terms of success for BuyersCircle, he believes in establishing and leading the trend of social eCommerce in markets outside of APAC, and outside of closed ecosystems, then becoming the world leader in global social eCommerce. "This will bring me, the team, and our investors, happiness, and will be the true measure of success," he states.
On Lance's immediate horizons are creating a whole new phase of retail in Australia, after which he plans to launch in multiple other markets in quick succession. "We want to be the global leader in social shopping, empowering 10's of thousands to incrementally monetize their influence," he declares.
It's important to surround yourself with the right people
When it comes to facing challenges, Lance points out that they don't automatically make you stronger; rather challenges can stop some people in their tracks and discourage them.
"I think it's the navigating them and overcoming them that builds the muscle and resilience, which is ultimately making you stronger. Walking up to the base of a mountain does nothing for you; climbing it builds strength, endurance, and character," he observes.
He reflects that, on his own journey, he discovered that he was his own biggest roadblock, in terms of either thinking that he wasn't enough, or even at times thinking that he was better than he was.
"The minute I went on a journey of self-discovery and self-awareness, my journey really accelerated. I stopped seeing things and people as roadblocks, and more as obstacles that I needed to learn how to deal with, often at times even by developing a new skill or muscle to continue to move forward," he recalls.
In addition, Lance learned that he needed to let people in, and finding his ultimate strength in empowering other people removed even more potential obstacles. "I wouldn't be where I am today if I didn't surround myself with the right people," he observes.
Developing a new style and expectation of leadership
Lance notes that he's barely halfway along his journey as a leader, but that he does aim to lead the industry to a new style and expectation of leadership.
He recalls that growing up, he did a lot of activities that conditioned him for leadership but doesn't believe that they made him a leader, and certainly not the one he is today.
He remembers that, whether it was Scouts, sports, school captain, etc., they all were at a time when people led from the front, and in some respects, 'told' others what to do.
"Even back then, that style didn't suit my personal style or values, and so I always put my own feel over it. Over the years as I reflect, I always seemed to have people 'following' me, even if I wasn't designated as the leader in the situation, but it wasn't until years later that I understood that, and began to develop and leverage it," he notes.
Lance recalls that, even back then, his style was to support, encourage, and empower people; to lead from behind rather than from in front. "In a lot of ways that's where I am at now on the journey, except that I've learned I need to adapt my style, depending on my team or who I'm leading," he observes.
Lance points out that, while there are absolutely some people who need to be told what to do, the difference in his leadership style is that, rather than simply just telling them, he tries to take them on a journey of empowerment and autonomy, perhaps telling them where they need to get to and why and letting them decide how they get there.
"So, I would say that I'm still on my journey, learning and evolving every day," he says.
Lance looks back on two key moments in relation to the best recognition he has received. The first was a KudoBoard that was shared with him when he left a business. "There were comments and thank yous from across the business. Not just the people in my direct care, but from various areas in the organisation," he recalls.
The second was when he started with BuyersCircle, and his phone started ringing with ex-colleagues and employees wanting to know what he was doing, and how they could be involved. He notes that both were incredibly humbling experiences.
The importance of providing clarity and transparency
Describing himself as "curious," Lance notes that his responsibilities at BuyersCircle are typical of a CEO, but the way he articulates them might be slightly different.
"My job is not to run the business; it is my team's job to run the business. My job is to provide them with the support, strategy, and frameworks to enable them to succeed at doing that," he points out.
To Lance, that means bringing the right people into the business at the right time; sourcing the funds they need to enable their growth, and keeping their shareholders and investors informed about what they are doing.
Additionally, given the stage of their business, he believes that it is up to him to wear the hats they are yet to hire for, e.g. Chief People Officer, and roll up his sleeves when they have other gaps in the business.
Lastly, Lance states that his commitment to the team is to provide clarity and transparency, so they aren't flying blind. "Where there isn't clarity, I will do everything I can to go and define it for them," he declares.
Lance recalls that his life before BuyersCircle was spent in senior executive roles in large Australian and global businesses, focused on building eCommerce and digital propositions, catching these businesses up to the current market trends.
He remembers the great thing about that being the wealth of learnings from people that had walked the paths before them, and that he could focus on doing it faster and smarter, inside businesses that have a great base and a set of assets to leverage.
"I also was able to have amazing teams and funding at my fingertips, so aside from the conservatism in these businesses, we could do pretty much anything that I could convince the CEO we needed to do," he observes.
Prioritizing happiness and being in balance
Lance notes that when it comes to achieving his goals, he has reached some, but not all, and doesn't think he ever will, because once he achieves something, he's back to dreaming about the next possible thing.
"I'm not one to sit down and point to a goal on a 5-year horizon and then stop. I'm always one to be thinking about what the possibilities might be," he states.
Lance includes happiness, for his family, and personally, as one of the goals that he has worked on. He is also well on the path to his goal of providing for his children, ensuring they always have the opportunities that he was afforded, and more.
He feels that while balance is an interesting concept, his way of thinking about it is something that he learned from a good friend, in terms of focusing on 'in balance' and avoiding 'imbalance'.
"So what that really means is that it's different at different times. It's not about committing to 40 hours a week and no more than that, but about adjusting as you go, to keep your life 'in balance'," he notes.
Generally, for him, that means giving more when he needs to, and taking time back when he needs to. Keeping an open dialogue with his partner and children, looks for the signs of when things are getting out of balance, and corrects it when he can.
Motivation is about the 'why' rather than the 'what'
With respect to motivation, Lance believes that it's about the 'why' rather than the 'what'. The significance for him is that they are building something incredibly exciting, and leading in the next phase of retail, which is the primary motivation of the people in the business.
Lance notes that it's about setting little milestones and celebrating them. "It's no good having this big lofty dream on its own. People can't connect with it on the day-to-day, so getting with the team each week and highlighting what the next thing is we are going after, and then achieving it, is the way to keep everyone running in the same direction," he points out.
His personal goals include maintaining happiness in his family, as well as making a tangible impact on reducing the stigma surrounding Mental Health and supporting Gotcha4Life on its quest and founders dream of Zero Suicide in Australia.
Lance's advice to aspiring business leaders is simple: Get really interested in self-awareness and being conscious of how you 'show up'. Spend as much time as you can in self-reflection and seeking feedback and be just a little bit better every day.
Remember your job is to empower and look after the people in your care. They are individuals, and you need to be able to treat them that way. If you look after your people, they will look after your customers, and your business will be successful.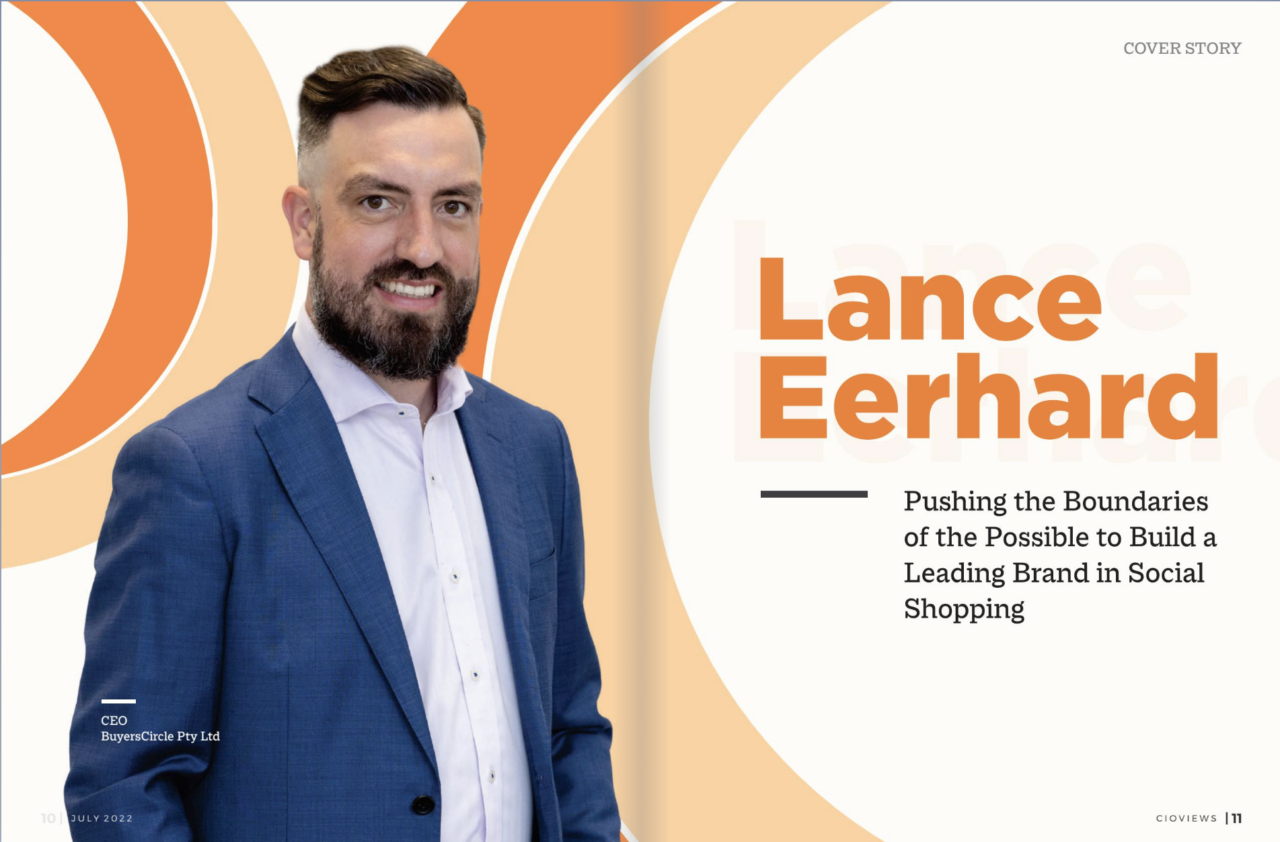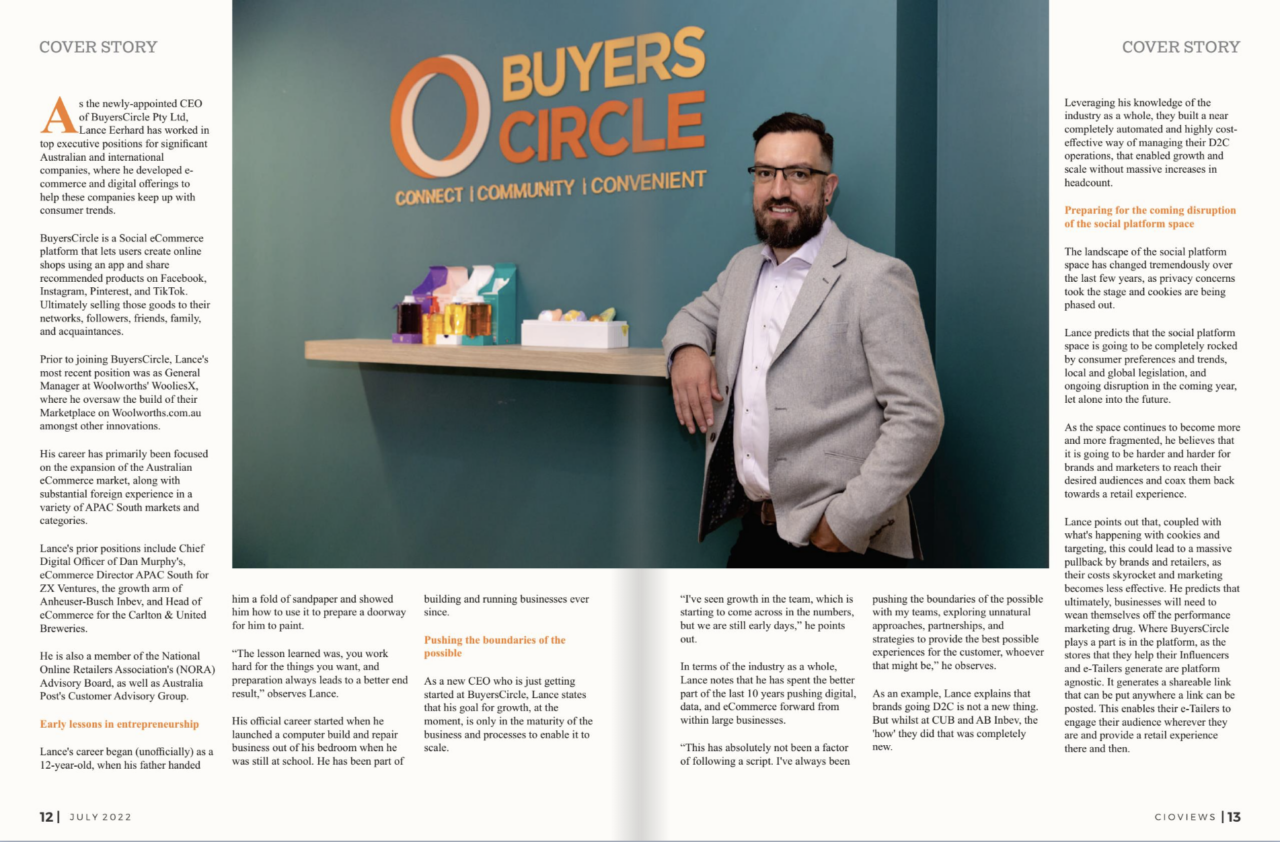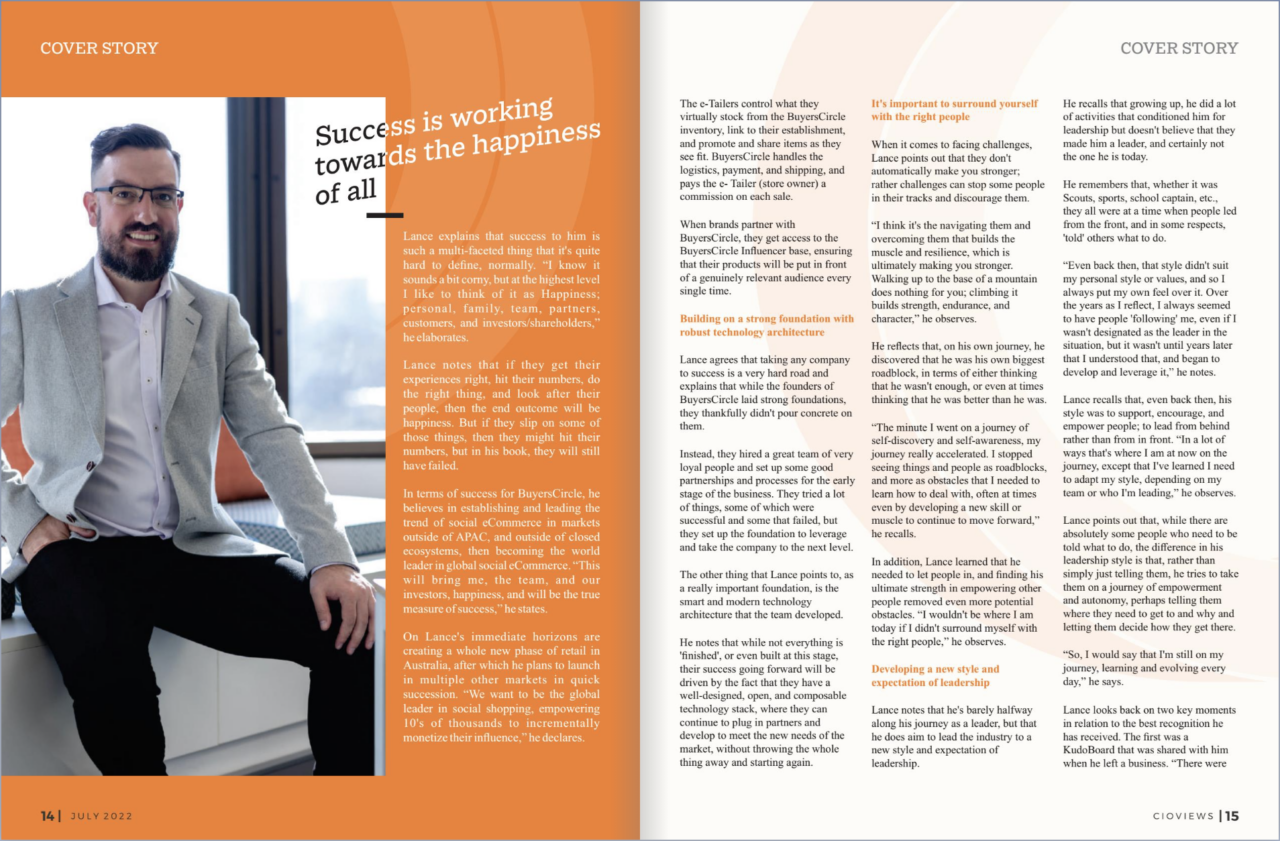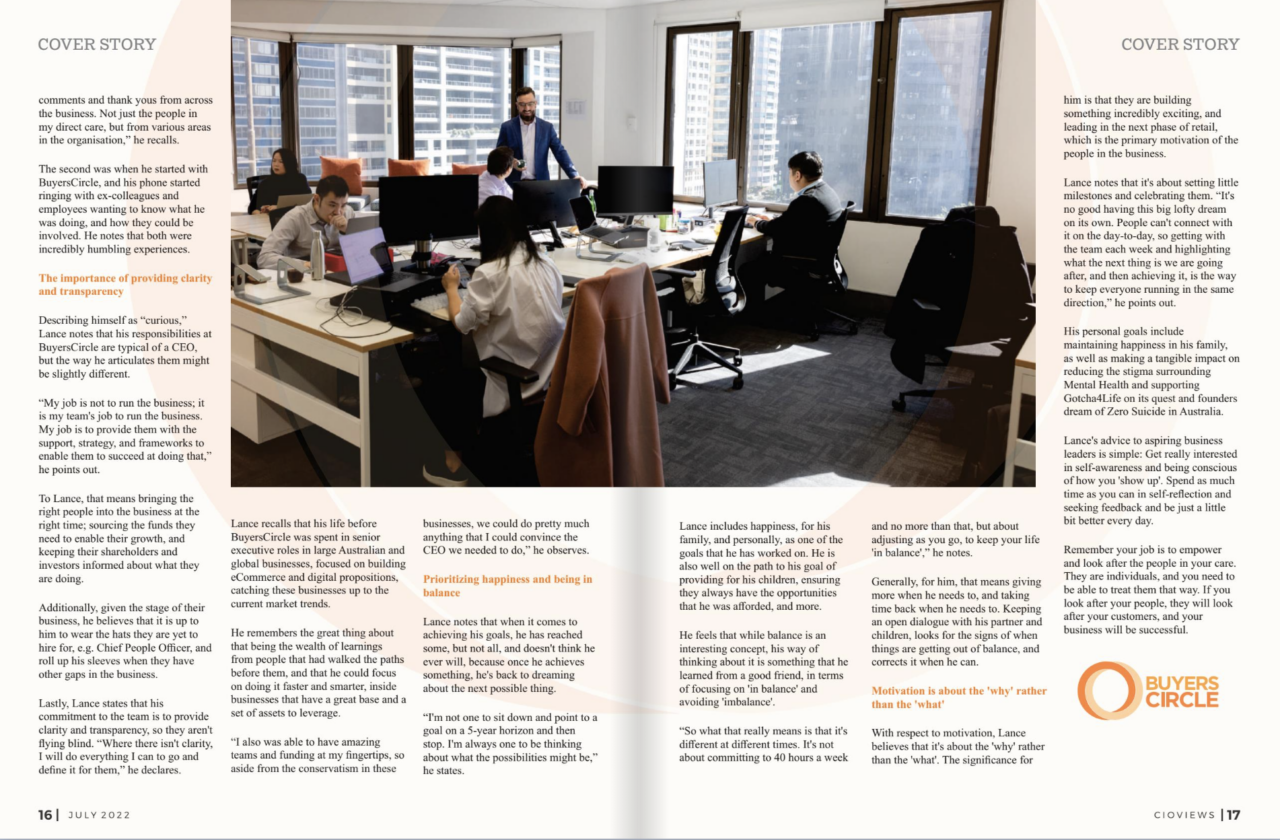 Source: https://bit.ly/3RQgMAJ