If you are reading this, it means you are thinking about starting your own business, right? The first step will usually be deciding what kind of business you are moving forward with.
Let's think about what resources you have in hand, your skills, interests, connections, experiences and most importantly, funds.
Let's start with some examples:
| | Coffee Shop | Online e-Commerce | Social e-Commerce Dropshipping |
| --- | --- | --- | --- |
| Requirement | Physical store, construction & interior design, coffee, coffee equipment, take away packaging, staff to operate the shop. | eCommerce platform, inventory, computer, warehouse, marketing and CRM systems, payment gateways. | Social media accounts, Mobile phone. |
| Cost | From $200,000 to $500,000+ (Source) | From $200 p/m to $40,000 p/a including inventory, storage, and software | Almost $0 |
| Labour | 2 – 3 | 1 – 3 | 1 |
| Pros | Market demand for coffee is typically high. | Easy to upload products to your eCommerce store. Software System resources. | You can do it anywhere at any time from your mobile. Everything is built into one platform to share and earn. |
| Cons | It is a saturated market with many coffee shops, which means higher risk without a loyal customer base. | Very time consuming to manufacture products and packaging with MOQ volumes. Managing inventory and delivery logistics on top of marketing. Easy to fail if you can't sell all your inventory. | Like all other businesses, you need to spend time growing your customer base and marketing your affiliate e-tailer shop. |
If you are looking to start a business with almost $0, try a social e-Commerce Drop-shipping business which is leading the future of e-Commerce.
What is Dropshipping?
Dropshipping is a business model that doesn't require the eCommerce business owner to purchase products up-front and centrally manages product storage, handling, and delivery logistics from the original manufacturer.
Sounds too good to be true right? You're selling products that you don't own; you didn't purchase those products and you don't need a warehouse to store the products that you are selling. Yes, you read that all right. You just put the products onto your selling platform, a customer purchases them, paid to your account, you then pay the wholesaler the price of the product and the wholesaler delivers the products straight to your customer's address. It's like magic!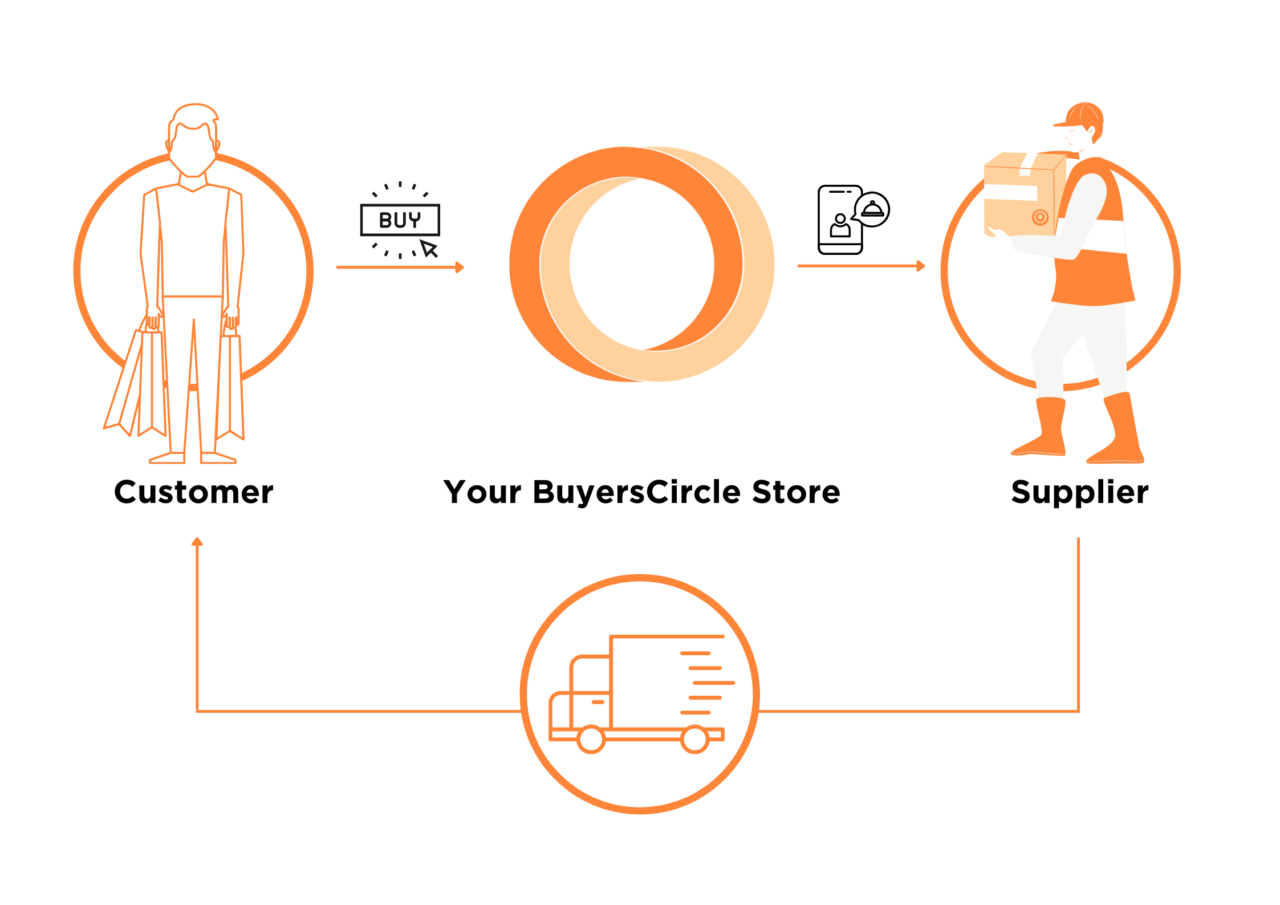 Benefits of drop shipping business model
Unless you are 100% sure on what would sell successfully, buying products in bulk can cost you lots of money in addition to the marketing spend required to start selling your products without an existing customer base, that is a lot of money up front before you even start earning a profit. Whereas the Dropshipping business model works the other way around, you find the market demand and earn your profit first before purchasing the product from your supplier.
Dropshipping enables you to sell a multitude of products on your eCommerce platform and you won't be limited by the funds that you have in your bank account. Simply add the products to your store and start selling them in just a few minutes. You will have complete control and flexibility in the product selection available in your online store.
Dropshipping means your suppliers will deliver the product(s) directly to your customer's address. You will not need to prepare shipping labels, you don't have to worry about packaging the product or purchasing shipping bags for delivery, and most importantly if you have a busy lifestyle, you won't need to worry about dropping off the products to the post office or delivering them yourself. Your dropshipping supplier will take care all this for you.
How Can I Find a $0 investment Dropshipping platform?
Traditional Dropshipping businesses will normally require a minimal subscription fee and an e-Commerce plug in partner like Shopify so it's not really $0 investment, experts recommend you have at least $150 to start your Dropshipping business. But is it possible to find an all-in-one Dropshipping eCommerce platform to start your own business at $0?
YES.
BuyersCircle is an all-in-one social e-Commerce platform. You can browse through thousands of products on BuyersCircle, and in just a few clicks add your chosen Dropshipping products to your BuyersCircle store and start selling on your social media platforms via your unique BuyersCircle e-Tailer Affiliate store URL.
What is social e-Commerce?
Social e-Commerce connects your social community in the most convenient way to buy, share and earn. It merges online shopping experiences with social media community networks. Customers can discover, buy, and share with each other through one platform linked to their favourite social media platforms.
Ready to get Started? Start your Social e-Commerce Dropshipping business today:
Download the BuyersCircle app HERE
Register an account
Give your store a name and customise your unique URL
Select products you want to sell and add them to your store
Once done, share it to your social media and/or messaging platforms
We've even prepared an e-Tailer Increase Sales Guide to help you grow your business HERE
Share & Earn with BuyersCircle.