Social media platforms, originally created for personal social connections and networking, have evolved over the past decade, to become lucrative selling channels for brands to actively promote their products and/or services via boosted or paid advertising. However, the rise of 'Social eCommerce' and Influencer / Affiliate Marketing has changed the way we shop socially forever. Social media platforms are no longer just a space for you to share your life milestones and updates with your friends and family, they have also become a powerful tool to increase your social influence and monetise social content with high-earning potential as an affiliate on all social platforms.
Promote & share
"But, how do I sell anything if I have no money to invest into marketing?" – This question has been the crux of hesitation for thousands of entrepreneurs, and we are going to discuss further on this below.
Actually, once you define what problem you are trying to solve, the product solution and selling platform you want to use to share – promoting your products on social channels isn't that hard and you don't actually need any money to start creating engaging content, all you need is time and willingness to implement.
So, why do so many companies run paid advertisements and Google SEO? Brands need awareness, exposure and people to help promote their products. They may not already have your level of network and social influence so they create a multi-channel marketing approach using paid advertising in order to reach a larger targeted audience to drive traffic to their products. Affiliate / Influencer Marketing has grown exponentially over the past two years and approximately 80% of brands globally are now leveraging the power of word-of-mouth marketing through influencers like you.
Ok, so I know how to engage an audience on social media, but does that mean I now have to pay thousands of advertising dollars in order to sell specific products I want to promote?
The answer is NO.
Unless you do not already have an established network across any of the major social media platforms, you can definitely start sharing and selling your products on social media today! Just by starting a conversation about how your product helps solve a life problem you can create a word-of-mouth ripple effect to start selling it. How?
First, Get Social with your Inner Circles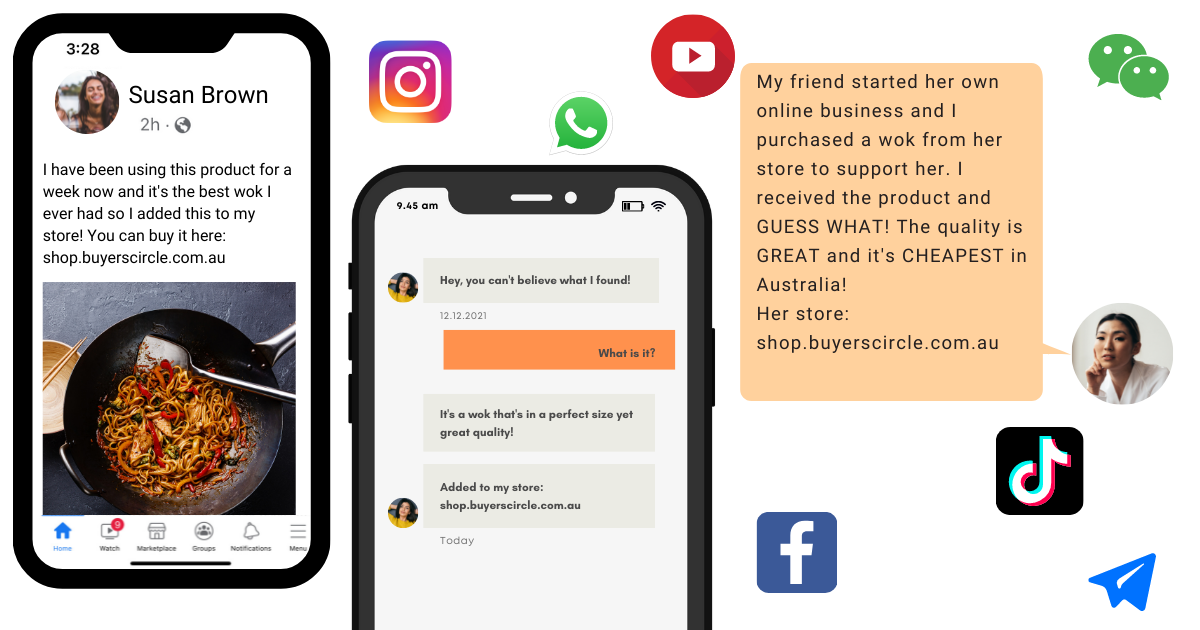 Share product reviews on your preferred social media platform. Write or record a live review for products you've purchased; tell others what you like about this product and don't forget to include the product link for viewers to click and purchase.

Share products with your friends and family via text messages, WhatsApp, Facebook messenger, Line, Telegram, WeChat, Signal, Instagram message, LinkedIn and more (you name it), tell them how much you love the product you shared with them and how it could benefit them too.

Extend your network support – When your friends, family and followers buy from you, and love the products, ask them to support your new business by sharing a social post with the product and tag your business! Make it easy by providing them with an example and guideline on how to write a social post to promote for you (We will cover this part in our future blog, subscribe now).
Next, Get Social in Community Groups
Ok now let's look outside of your immediate personal connections. You can utilize community groups such as Facebook Community groups or an online community chat group inside your favourite messenger platform. These groups are fantastic to meet new people with similar interests – for example, if you love adventures, you can join an "Adventure Enthusiast Group" and when people in the group ask what gear to get you can recommend travel products available in your store to help them in their next adventure. This connection to help enable others to have a better experience with products you have in your store allows you to build trust and closer relationships with more like-minded customers. It also helps you become an influential product expert. The beauty of building these connections and trust with community groups means that there is a high chance they will also start to promote your product(s) for you to another customer or on other community groups and in turn, this will also help you boost sales.
Boost Sales
Once you are able to connect with potential or existing customers, be sure to greet them and communicate with them consistently. It's essential to keep them up to date with your new products and offers. The most effective way to increase sales is by maintaining engagement with your customers as often as possible. But, what can I share with them to do that?
Share new product updates regularly.

Introduce products to customers just as you would do with your friends – be genuine!

Include product links for customers to click and buy instantly.

After a customer receives the product, send them a personal message to thank them and ask them to share with their friends.
Start Your Business with $0 Investment
You can start your own business in just 5 minutes without spending a cent on the BuyersCircle app. BuyersCircle offers you a platform to source the products that you want to sell, add those products to your BuyersCircle store, share them with your community and let BuyersCircle deliver the product(s) to your customers directly.
In just 5 minutes, you own a global and local supplier network, an eCommerce store, customer support, and a logistics team; all for FREE.
Start your business today HERE