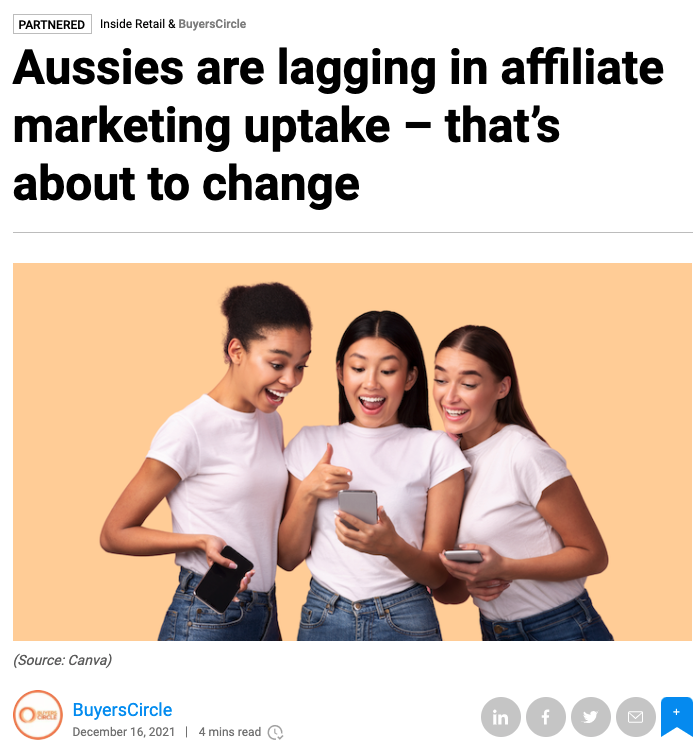 So with such a high uptake in markets like North America and Mainland China, why does the industry remain in its infancy in Australia?
Nicole Gassett, head of marketing at Australian affiliate marketing startup BuyersCircle, believes it is because Australians are a little more guarded. "It takes us longer to trust. I'm originally from the US so I see both sides of the coin, but in terms of the landscape of affiliate marketing, in Australia, it's still a bit of a taboo topic."
She believes many people mistake the concept for multi-level marketing, but the two concepts are entirely different business models. With multi-level marketing, people are purchasing goods from one supplier and reselling them, creating a chain of people often relying on friends and family to maintain regular turnover. Affiliate marketing offers a lot more product diversity and is about someone recommending a product on their website, blog or social-media platform. People can order the product from a brand or wholesaler, the recommender receives a commission.
"So this sort of shopping-share concept is pretty incredible because we're finally at the point where it is socially acceptable to be rewarded for giving great product recommendations. We want to make shopping a more social experience, not just a transactional one."
The key to the success of affiliate marketing is that all sellers are doing is recommending or rating a product. A mother in suburban Sydney might share in her parent support group a new infant food product, including a link to buy the product. Her role in the transaction is simply sharing the information. With her own credibility on the line, she is hardly likely to recommend a bad product to friends or colleagues. The sourcing, warehousing shipping and transactional stages of the sale are all handled by a third party.
How affiliate marketing can benefit existing retailers
As BuyersCircle continues to expand as fast as it has, the company expects to attract existing retailers who want to expand their product offerings. Gassett says there is a huge opportunity for brands and retailers to become involved in affiliate marketing because it takes away the pain of running their own e-commerce store.
"It's really disheartening to me to see so many e-commerce startups fail, seeing people sell all their stock and give up because they are too stressed out and the whole process is just too much. At BuyersCircle, we are taking the headache out of starting a business as well. They don't have to worry about the overhead of carrying stock.
"If you take out that overhead and just let them do what they do best – networking and sharing products that they love and products that they are passionate about – they can better maintain a successful side hustle through affiliate commission."
It takes less than five minutes for anyone in Australia to open an affiliate e-tailer store on BuyersCircle simply by downloading an app via Google Play or the Apple Store. Store owners manage what they virtually stock (from the BuyersCircle's inventory), link to their store and recommend and share as they wish. There is no minimum turnover to maintain the store, and no sign-on fee as multinationals usually impose. Payment, delivery and logistics are managed by BuyersCircle and the store owner receives a commission on sales – or they can have their commissions directed to a charity of their choice.
BuyersCircle has around 4000 products available through its dropshipping suppliers, two warehouses in Sydney and Melbourne, plus their warehouses located within the Melbourne and Sydney Markets to provide fresh produce. Its offer ranges from fresh food, liquor and grocery items to electronics, apparel and homewares.
Early next year BuyersCircle will be live on Shopify, so any retailer with an existing store on the platform will also be able to sell products from BuyersCircle's inventory.
An influencer of influencers?
Long term, BuyersCircle aims to earn a place as an influencer in its own right. It analyses industry trends, changing demand for products and the evolution of categories to determine products it adds to its inventory, considering recommendations from retailers and shoppers alike.
"I think people are looking towards companies like us to be the thought leaders in what they should be buying what they should be doing. So it's important for us to always be doing a lot of research around what is trending globally and what people need and looking at environmental factors."
Gassett says affiliate marketing is not really new and offers up a simple challenge. Think about it: what was the last product or service you recommended to someone? We are all affiliate marketers – it's just that most of us aren't getting any reward from it.
Find out more about BuyersCircle – Australia's leading social e-commerce platform that connects the community in the most convenient way to shop, share and earn. 
Read more on InsiderRetail